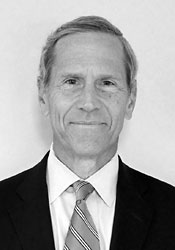 David Hillman
International Advisory Board Member

Former CEO, PNC Equity Capital Partners, Pittsburgh
David Hillman is an experienced private, direct investor in middle market operating businesses. He has decades of experience with originating, evaluating, negotiating, financing, acquiring, overseeing, developing and monetizing such direct investments.
Mr. Hillman accumulated his direct investment experience over 30+ years while serving in positions of increasing responsibility with PNC Equity Partners, the private equity investment subsidiary of PNC Financial Services Group Inc., which specialized in leveraged buyout, recapitalization, consolidation strategy, business expansion, and corporate divestiture transactions. During his career at PNC, equity capital was provided to well over 100 businesses. He began his career there in 1982, subsequently becoming Executive Vice President and partner, and in 2006 became its President, a position in which he served for over 15 years. PNC Equity Partners was subsequently rebranded as PNC Riverarch Capital in 2011, and Mr. Hillman became a Senior Advisor and Managing Director and, thereafter as he moved towards retirement, he remained a Senior Advisor through the end of 2014.
PNC Equity Partners typically made long term investments in middle market companies engaged in specialized manufacturing, business and industrial services, value-added distribution, and software and tech-enabled services. It provided between $10 million and $50 million of equity capital to companies with enterprise values between $20 million and $125 million and an EBITDA between $4 million and $25 million. It invested in junior securities such as preferred stock, common stock, and subordinated debt typically acting as a lead investor.
Mr. Hillman is the Board Chair of Steel City Squash, a program that uses the sport of squash as a vehicle for improving the life trajectory of children from low-income households. He is also the former Chair (now member) of the Investment Committee and former Board member of The Pittsburgh Foundation. In addition, he is a current Board Member of the Pittsburgh Parks Conservatory and the Carnegie Hero Fund Commission.