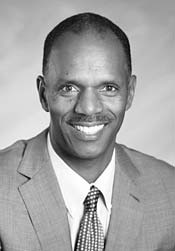 David L. Motley
Senior Managing Director
Across a 30 year corporate career, Mr. Motley has acquired industry specific knowledge in diversified manufacturing, life sciences, real estate development, financial services, venture capital and consulting services. As member of the senior leadership team in industry leading companies, Mr. Motley has held profit-loss responsibility across a wide variety of business circumstances including early stage, restructuring, growth and sustaining performance.
Mr. Motley's public company board experience includes service on the boards of First National Bank, NYSE: FNB and Koppers, Inc. NYSE: KOP. Mr. Motley also serves as the Lead Director for Armada Supply Chain Solutions, a $4B privately held company and ALung (capitalized with $120mm in venture funding). Across those boards, he serves on a variety of committees including Nominating and Governance (Chair), Finance and Audit (Chair), Compensation, Risk, Credit and Risk, Strategy, and Finance. Mr. Motley has also led the establishment of governance models, board design and selection for several privately held companies ranging in annual revenue from $50mm to $2B. In the non-profit realm, Mr. Motley's board service has extended across entities advancing agendas in integrated healthcare systems, higher education, economic development, arts and culture, African American social and economic empowerment, and youth and adult job training.
Since leaving corporate in 2010, Mr. Motley has launched three entities: The BlueTree Venture Fund (Co-Founder and Managing Partner), DLM-WCM, LLC (real estate development in partnership with Walnut Capital Management) and, MCAPS, LLC (a construction management company). The BlueTree Venture Fund, now fully invested, has 16 portfolio companies in the life science and the IT sectors. Mr. Motley's entrepreneurial board experience includes both board member and board observer roles for venture backed life science companies with capitalizations ranging from $5mm to over $100mm.
From 2006 through 2009, Mr. Motley was a member of the 12-person management team that over a four-year period grew Respironics, Inc. from $750mm to over $1.4B and the subsequent sale to Philips for $5B. Mr. Motley led the corporate strategy function and the venture activity for Respironics and had P&L responsibility for early stage acquisitions that were integrated into the company. The role also included direct responsibility for late stage R&D commercialization efforts and licensing technologies to access market adjacencies. Following the acquisition of Respironics by Philips and subsequent integration, Mr. Motley spent one year with Covidien Surgical Devices (acquired by Medtronics), commuting to Connecticut and leading the revamping of their approach to portfolio management, strategy development and franchise management for the $2.5B global business.
The first 20 years of Mr. Motley's career were spent with PPG Industries where he rose to executive leadership roles that included: Responsibility for PPG's $1B real estate portfolio; Global responsibility for sales and marketing for a $250mm specialty chemicals business. Mr. Motley also spent four years with Alcoa, Inc. where he played a leadership role in the creation of the Alcoa Growth Process, a market base strategic planning process that was adopted across Alcoa's $30B portfolio. While at Alcoa, Mr. Motley served as VP, Alcoa Advanced Transportation Solutions (AATS), with responsibility for sales, marketing, engineering and new product development for the global business which supplied Ferrari as its flagship customer. During Mr. Motley's tenure, AATS won Ferrari's coveted Supplier of the Year Award.
In 2017, Mr. Motley co-founded the African American Directors Forum-Pittsburgh, an initiative that seeks to increase African American representation in the board rooms and C-Suites of Pittsburgh's publicly traded companies. The model is being replicated in other U.S. cities by national organizations.
Mr. Motley is a Cum Laude graduate of the University of Pittsburgh's Swanson School of Engineering and a Distinguished Alumni Awardee, recognition given to less than one percent of the graduates. A graduate of the Harvard Business School. Mr. Motley and his wife have two children, reside in Pittsburgh and since 2003, have run the Pittsburgh Inner City Junior Tennis Program (www.theicjtp.org), recognized by the USTA as the Middle States' 2014 Community Tennis Association of the Year. Mr. Motley is also an avid golfer and a long-term volunteer instructor for First Tee of America.