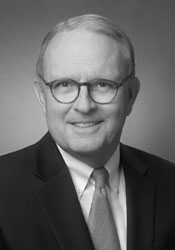 Patrick O. Ring
Managing Director
Patrick Ring has over 30 years of banking, commercial credit business valuation and family owned business advisory experience, focusing on successful generational ownership transitions.
Patrick Ring is a Managing Director at FODIS. Mr. Ring has extensive experience on matters relating to business valuations, business acquisitions and divestitures, corporate finance, and advising business owners on matters related to the generational transition of their businesses, which can range from transfers from one generation to another, or even planned exits with family offices, or strategic or financial partners, and related monetization transactions. Mr. Ring joined FODIS in 2013 to extend his previous family business advisory practice experience with the multi-disciplinary professional team, proprietary research and tools, and decades of expertise available within FODIS to better serve business owning families.
Prior to joining FODIS, Mr. Ring was President of Legacy Partners, LLC, a Baltimore-based firm providing independent advice to family business owners on their reasonable strategic options and then with the design of ownership transition plans. This process improved both the outcome for the businesses and the owners' own next steps. He also performed business valuations and was Independent Trustee to a number of ESOPs considering the sale of shares as part of an acquisition. Mr. Ring was formerly Managing Director of The Baker-Meekins Company, a boutique business valuation firm also in Baltimore. His work was relied upon by business owners and their attorneys, planners, accountants and investment bankers for an independent opinion of the fair market value of businesses and business interests. These opinions were used in connection with the Internal Revenue Service, the Securities and Exchange Commission and the U.S. Department of Labor. Mr. Ring also served as chairman of a Federal court-appointed appraisal panel to determine fair value of a company's stock in connection with shareholder litigation.
Previously, Mr. Ring worked in investment banking for MNC Investment Bank and Mellon Bank. He was the Mellon Bank Representative in Mexico City for three years, with an earlier assignment in London.
Since 1997, he has served as a board or advisory board member of a family-owned confectionary co-manufacturing business. He chaired the Finance Committee of the Cathedral of Mary Our Queen in Baltimore for 15 years and was a member of the Planned Giving Advisory Committee of Catholic Charities of Maryland. A graduate of Georgetown University, Mr. Ring earned an M.B.A. from The Wharton School of The University of Pennsylvania. He is an Accredited Senior Appraiser (Business Valuation) of the American Society of Appraisers. He has co-authored or been featured in more than 30 published articles on valuation and strategy that have appeared in regional and national publications, including The Wall Street Journal, Family Business Magazine, Investor's Business Daily and is a regular contributor to the American City Business Journals. He has presented to YPO/WPO, university-based family business centers, regional estate planning councils, and continuing professional education programs for attorneys and certified public accountants.