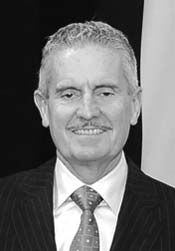 David Tilstone
Senior Managing Director
Dave Tilstone is currently a Senior Managing Director at FODIS. He has an extensive background in manufacturing technology and has held executive leadership positions in public, private and non-profit organizations in this space. He has a proven track record of identifying opportunities and expanding global businesses with mid-cap companies. He has done business in over 38 countries, been instrumental with acquisitions in the US, South America, Europe and Asia, and has developed partnerships and an extensive international network.
With over 40 years of metalworking manufacturing technology experience, he has led organizations with a specific focus on strategic growth and improving operating results. In executive roles with leading organizations, which supply the global manufacturing industry, Mr. Tilstone has been recognized as a leader in the metalworking industry and in key market segments including automotive, aerospace, and medical and those in the respective supply chains.
He has a great appreciation and passion for precision manufacturing and is recognized as a thought leader of the major technology trends that impact and contribute to global supply chain activities. While serving as the National Tooling and Machining Association's (NTMA) president (2010 - 2018), he led trade and technology missions to Europe and Japan on several occasions for its members.
Recognized internationally, Mr. Tilstone has extensive experience in promoting domestic manufacturing capabilities to global markets. His ability to market America as a manufacturing leader provided his prior companies and his current clients with significant organizational growth and market share. He has a personal and professional passion for the automotive industry which he follows very closely, especially with regard to the electrification of motor vehicles.
When Dave joined FODIS, he was also Business Development Officer to iTSpeeX, an Industry 4.0 enabling technology from 2018 to 2020. He started ADT International Consulting in 2009 and concurrently held the position of president at the National Tooling and Machining Association leading its 1300 members until September 2018. He previously served as President of Kennametal Extrude Hone (2002 - 2006) after serving as Kennametal's corporate vice president of Global Marketing (1997 - 2001). He currently holds Advisory Board positions at Major Tool and the alliantgroup. He chairs the Advisory Board of the University of Pittsburgh Greensburg and serves on the Board of Trustees at the University of Pittsburgh. He also held Board positions with the Association for Manufacturing Technology (AMT), the American Heart Association and several of Kennametal's international subsidiaries; just to name a few. While at AMT, he was also the Chairperson for the Global Marketing, Sales and Service Committee.
Dave received has Master of Science degree at North Carolina State University, Bachelors of Science in Chemical Engineering and Bachelors of Art degrees at the University of Connecticut and has completed numerous industry specific trainings.